Sunshine Coast Railway Modellers Society
Railway Modellers Society
We operate a variety of steam, electric and petrol locomotives for members and the general public to enjoy.
The track is dual gauge, 71/4″ and 5″, ground level and has developed over the life of the Society and now occupies two basic levels. The higher section of track is in the top half of the adjacent plan. The lower area, represented by the section below the Namba Creek Bridge, is on the Petrie Creek flats some 3 metres below the Station floor level. The Bridge crosses about 2.5 metres above Namba Creek, a small tributary to Petrie creek. A line of large trees visually separates the two basic levels giving a real sense of a train journey. With the pedestrian over-bridge leading to the Toilet Block patrons can look down on the tracks. They can wave to passengers, and enjoy the smoke and steam, particularly when locos are steaming up the long climb from the creek flats. There are many vantage points for viewing and photographing trains and passengers at both long and short range. Large areas of open grass offer plenty of scope for both family and group picnics.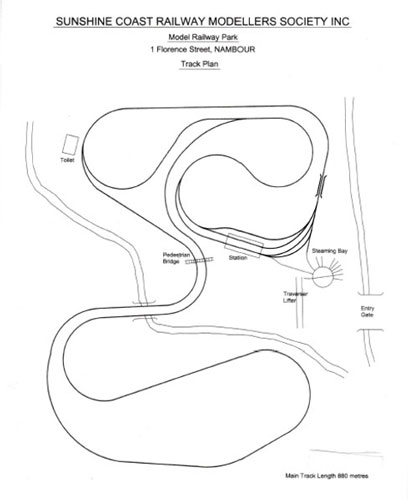 The railway modellers track opened on 22 November, 1980. The original track in the West area of the Park was extended across the Namba creek and down onto the Petrie Creek flats to the east.
The Roy Stephens Loop was opened on 5 September 1999. In 2006-7 a large part of the older track was re-laid and further extended with the aid of various grants together with Club funds. This upgrade was officially opened by the Mayor of Maroochy Shire in October, 2007.
In the first half of 2008 Sunshine Coast Railway Modellers Society commissioned 6 additional passenger cars increasing the capacity to 12 to cater for the rapidly growing popularity of the track.
New track works were also completed to provide access for rolling stock to and from the new 40ft container.
New Members are welcome, particularly young people, and it is not necessary to own a locomotive as training will be given to use the Club's own locomotive.
You can also become involved in every aspect of the railway and again, all training will be given. Our Membership fee is $60 and our Membership year runs from 01 January to 31 December each year.